Sentenced To Death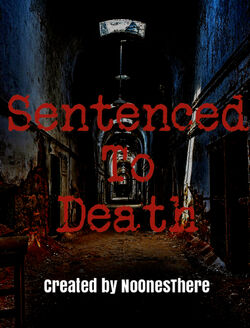 | | |
| --- | --- |
| Writer | NoOnesThere |
| Website | Wattpad |
| Chapters | 6 issues possibly |
| Seasons | 1 |
| Original Run | 2020-Present |
| Preceded By | N/A |
| Succeeded By | TBA |
Sentenced To Death is a post-apocalyptic zombie horror story, made by NoOnesThere.
Synopsis
The world is over. After a outbreak, causing the undead to rise and take over, half of the world has been wiped out, and the remaining people are just as worst as the dead. Inside a prison, the remaining police officers and criminals must put aside there differences and stick together in order to save themselves from this harsh world.
Chapters
TBA
Character List Table
SPOILERS UP TO VOLUME 2 BELOW, READ AT YOUR OWN RISK
Characters are ordered by when they first appeared physically.
Deaths
TBA
Trivia
TBA