SPOILERS!!!
WARNING: This article contains spoilers for the fan fiction it pertains to. Please proceed with caution.
To begin the story without risk of spoilers, please click here.
Dark Days is a standalone post-apocalyptic horror-drama survival series by KeepOnKeepingOn.
The series is set in Tuscaloosa, Alabama. Starring Ross Lynch, Jennifer Lawrence, and Nathan Kress, the story follows a group of students and teachers surviving within the locked up University of Alabama, one year into the zombie outbreak. Outside of the main cast, the supporting cast features several big name actors and actresses.
After several, several delays, the series finally debuted its first season on March 7, 2018 to critical acclaim.
The first season took two years to finish, after which the series went on a short hiatus. The second season premiered on July 1, 2020.
Readers can rate each individual episode on their respective pages, and can rate the story as a whole on this page.
To begin the story without risk of spoilers, please click here.
Episodes
Main article: Dark Days/Episode Guide
Cast and Characters
Main article: Dark Days/Characters
Main article: Dark Days/Cast
For a complete list of character appearances, see here.
Major Characters
Main Cast Table
Your Rating
Trivia
The series has an in-progress list of tropes, which can be found here.
Gallery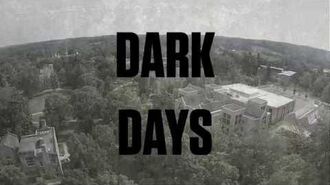 Community content is available under
CC-BY-SA
unless otherwise noted.