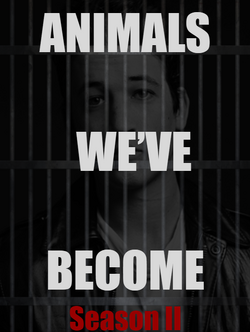 Synospis
Follow Glenn Richardson as he travels through the zombie apocalypse with the help of his friend AJ and others. He'll come face to face with new foes and characters from AMC's The Walking Dead.
Season 1
Episode 1 - School's Out
Episode 2 - On the Run
Episode 3 - Nowhere Is Safe
Episode 4 - Dead Money
Episode 5 - Want a Receipt?
Episode 6 - The Wings of an Angel
Episode 7 - Sitting Ducks
Episode 8 - Truck Freak
Episode 9 - Ghosts of the Past
Episode 10 - War in the Woods
Episode 11 - The Fallout
Episode 12 - Tale of Two Walkers
Season 2
Episode 1 - Rusty Cage
Episode 2 - Chaos in the Kitchen
Episode 3 - tba
Episode 4 - tba
Episode 5 - tba
Episode 6 - tba
Episode 7 - tba
Episode 8 - tba
Episode 9 - tba
Episode 10 - tba
Episode 11 - tba
Episode 12 - tba
Specials (Webisodes)
Characters
Trivia
The theme of Animals We've Become is Animal I Have Become by Three Days Grace